Ecuador After Covid19
Ecuador After Covid19  
Update May 24th  – WE ARE READY TO GO BACK INTO ACTION!
Ecuador will be ready to receive international travelers from July 1st, without restrictions like quarantine or fast test of covid19
Currently, our company is now working normally as far as answering emails and inquiries.
If you are planning to travel 2020 we are currently offering a 10% discount in all of our packages, and special deals for groups up to 50% off in some of our trekking tours
————————————————————————————————————————
Ecuador Eco Adventure as a leading responsible tour operator was forced to close all operations nationwide, last march 11th 2020, due to the outbreak of the global pandemic of Covid19, which led to the closing of all international arrivals at Ecuador´s main airports, and the cancellation of a few expeditions planned for April, May and probably June.
all national parks are now closed, and there is not a defined time for the re-opening, thus our expeditions are all in the hold.
Our immediate response to our current clients, was to provide them the flexibility to postpone their trips at no additional charges for any time in the coming 10 years, so they could have more flexibility rescheduling.
The country will restart basic activities from May 4th and slowly will try to get its population out of quarantine by the end of May.
The country was under crisis, and special concerns grew around the globe, especially in the Big City of Guayaquil, where the situation was miss carried by an unprepared populist regional government, which ended in the collapse of the public services making it very difficult for the health care system to manage the ICUs and the death of thousands of people presumably due to covid19.
Even though our operations are nowhere near the city of Guayaquil we understand that this may have risen concerns in the international public eye. however, the nation itself was able to keep social distancing and most of the hospitals in the rest of the country never suffered an overwhelming number of cases.
As the end of April, Ecuador as a nation has been able to flatten the curve of new cases and is expecting to make progressive return our of confinement in the first weeks of May, thus hopping for the regulation of almost all activities by the first week of June.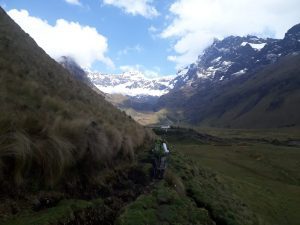 Our Tour Operator is currently attending all inquiries and replying as informative emails for any future expeditions, as a form of planning for the times post Covid19 we´ve decided to continue our practice endorsing higher standards of hygiene and social distancing, thus making sure we can guarantee our clients a safe time while in Ecuador.
We, however, have resigned to any hope of conducting any type of tours until the end of September or early October, we are waiting on any new findings of controlling the spread globally and sincerely hope for the world to return to a new morality after this global health crisis.
As we experiences are conducted mainly in Ecuador´s national parks and outdoors, we can reduce the risk to our services, as we DO NOT practice mass tourism, The Galapagos Islands are currently free of Covid19 cases, and the Amazon and Andes expeditions can be run exclusively in small, we are capable of practicing social distancing, and remote area expeditions safely.
Our currently Calendar is working as follows
Present – Checking gear and maintenance of all of our equipment
May 15th – Start answering inquiries and booking requests.
June 15th – Start small expeditions with local outdoor enthusiasts – Ecuadorians.
July 15th – International flights will arrive, but we are not expecting any foreign clients just yet.
August – First postponed tours will take place, anyone that made bookings with our company for march April and May will be attended from this moment on, we will start taking and accepting bookings at this point.
September – Our hope is to start promoting mountain season for December 2020 – February 2021.
This recent video about our Condor Trek Expedition can show you that we already practice social distancing and that we can offer exclusive expeditions to the most isolated places within Ecuador.
As far as our Non-Profit Organization goes Ecuador Eco Volunteer all programs will be closed indefinitely, as they take place in rural indigenous communities, once again acting responsibly and making sure the safety of the indigenous tribes that we work with, in the Ecuadorian territory, the only program that is soon to be available will be all programs within the Galapagos Islands.
Finally, we as a team can only hope for good news as all of our guides and staff are currently unemployed, thus we wait patiently for the day we can meet again if you were planning to come to Ecuador, we urge you not to cancel, but to postpone.
Be Safe – Sincerely
EEA Team