Ecuador Condor Trek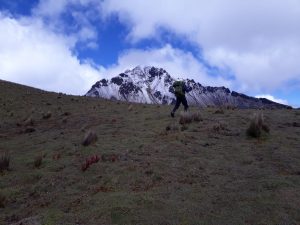 The Condor Trek is a four-day three-night high altitude trek through some of the most amazing landscapes in the Andes, which permanently stand above 3600 m (11800 ft). The Condor Trek is said to be the most beautiful trek in Ecuador. Even though challenging and physically demanding, the aid of pack-horses along the entire route makes it accessible to anyone with a little training. The Condor Trek in Ecuador runs across three ecological reserves and protected areas:  Cotopaxi National Park,  Antisana and  Cayambe Coca Reserve.
This is one of the most famous hikes in the Andes mountains. National Geographic Adventure listed the Ecuadorian Condor Trek in its Adventure Bucket List and recommended us to guide you on the trek.
The trek is open to anyone with the training—or, perhaps a better word is courage—to walk at over 10,000 feet for several days. The landscape is harsh, marked by rain, fog, and wind, but its wildness is a large part of what makes it so undeniably striking. While walking on the páramo, the high-altitude grasslands, trekkers encounter villagers herding their animals as their ancestors have for centuries, lagoons dotted with birds, a glacier, and the looming peaks of some of the highest active volcanoes in South America.
"Kate Siber"
Need a partner? Find companions with our Open Dates and tours here
Are you up for the adventure? Need more info? Contact us: