Mindo Cloud Forest
Mindo Cloud Forest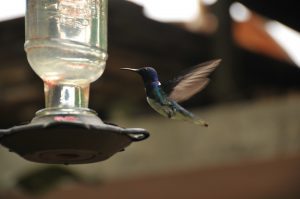 Mindo is a small town about one and a half, or two hours bus ride north west of Quito. It is referred to as the cloud forest for god reason, it seems to always be in the clouds. This doesn't by any means signify that the weather is always bad; the hazy clouds seemed to be resting over the mountain tops giving the place an almost other worldly feel. I stayed in Cabañas Armonía where there were bird feeders which attracted a plethora of hummingbirds of different varieties. Needless to say I spent a lot of the first afternoon taking about a hundred photos of them. It was great to just sit and watch the birds, especially in the mornings while eating breakfast.
There are many different activities to do in Mindo, if you have been to Baños, it is quite similar except a wee bit smaller and more rainforesty. I decided to check out the waterfalls in the morning, followed by zip lining and then, as I still had time left in the day, I visited the Mariposería (butterfly farm).
The waterfalls are about an hour to an hour and a half walk from Mindo, there is also an option of taking a cab for those that want to save their legs for the waterfall walk. To get to the walks you have to take a cable car called the Tarabita. It is a very old and rickety looking platform that goes across a wire very fast. The views from the cable car were incredible, the rainforest is very dense and the mountains and the valleys looked amazing. From the other side I took the main path which had about five or six waterfalls to see. It was a very pleasant walk going up and down the side of the mountain. There were a few people on the trail but it was still quiet and peaceful. I was able to sit and watch some of the falls with no interruption while listening to the sounds of the forest. I also tried my luck at taking those glorious photos people take with the slow shutter speeds to get the whispy flowing water effect. I think I did alright for a first try!
The ziplining was a very cool experience. In total there were 10 lines to go on; some small and others very long and very high above the ground! From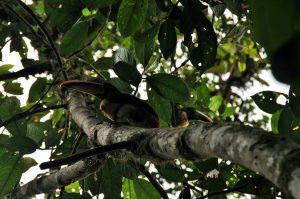 most was a spectacular view of Mindo and the surrounding mountains. About halfway through, the guide pointed to a tree where there were two toucans just chilling out. I'd never seen toucans before so seeing them so close was pretty special.
The Mariposería is definitely a must see in Mindo. It is about 3km out of Mindo so easily accessible by foot or by taxi. There are hundreds and hundreds of butterflies of all different types in one room. Butterflies bigger than my hand, those glorious blue morpho butterflies that look like they are some sort of CGI effect from the movies, and butterflies that will sit on your finger once you have put a bit of banana on it. It was really incredible.
Overall I enjoyed Mindo, it is a beautiful town nestled in the mountains just below the clouds. There are plenty of birds to see and walks in the area. There are also other adventure sports on offer such as tubing and canyoning for adrenaline seekers.