Packing for Ecuador – Andes Adventure
Packing for Ecuador – Andes Adventure
Are you planning an adventure trip to Ecuador in South America?
Ecuador is a country with a huge variety of landscapes and ecosystems, if you are planning a trip to this amazing country here are some tips for you to bring to your adventure getaway.
The Andes mountain chain is the largest sierra in the world, and it is home of astonishing mountains and peaks, Ecuador, a great part of this cordillera crosses through the entire territory of Ecuador, and it gives dramatic landscapes and sights to visitors, with beautiful valleys, and amazing snow peaks like Cotopaxi or Chimborazo
Take in mind that these tips are for active adventurers, with outdoors enthusiasts, this adventure list may be also helpful for countries like Peru or Colombia.
Passport: This is the most important document as you may know already, BUT, you need to check if the document is still valid for another 6 months, other ways you will not be allowed to even board your plane.
most countries are welcomed to Ecuador without a Visa, some need to apply for one 48 hours prior to the departure time of the flight, if you are not sure, if yours is allowed without visa check the list of countries here.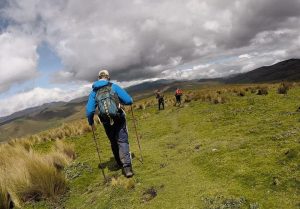 Waterproofs: This is a very important thing to take in mind, things like backpack rain covers, good waterproof jackets, and pants, can save you from an unexpected change in the weather which in Ecuador, is something that happens every day.
Do not take in mind weather predictions or forecasts, as this is never accurate, the different ecosystems, and altitudes in the country, give Ecuador unique weather and it all depends on the place you are.
Ecuador does not have seasons, in cities like Quito, you can have the full 4 seasons in one day, therefore, do not waste your time reading predictions or European interpreters of Ecuadorian weather, and seasons as this is none existant.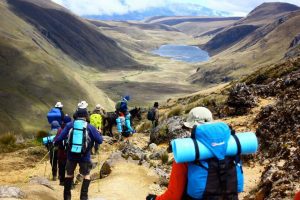 BackPacks: Leave your suitcases for your trips to Rome or Paris, Ecuador is not suitcase friendly, especially if you are taking trekking and outdoor trips.
The backpack will give you better chances to move from one place to another, and it works very well if you are taking an expedition to the Andes for climbing or a  trekking/camping trip.
We recommend also if you need more space, duffle bags do very well the job as well, where you can even place your backpack inside.
Shoes: This item will take a good dent on your weight limit, so if you plan to bring more than 1 pair, this is our suggestions
Good waterproof trekking boots, with good grip
Comfortable shoes for basecamps and while not in the extreme conditions of the mountains.
Water bottles: Been Eco-friendly is very important for us, in Ecuador, you will find places to refill, and if you are going to be staying at a mountain refuge, or shelter you´ll be able to refill this bottles.
Sun protection: yes that's right sun protection, or sunblock, in the Ecuadorian Andes even though it can be cold, you all need to remember that we are at the equator, right where the sun hits it´s UV rays directly, so is a lot stronger and people get burned, even if its a cloudy day.
Clothing: Temperatures in the Andes can range from 15- 20 degrees Celcius during the day and they can drop to 0 – 10 degrees Celcius at night depending of where you are, the coldest it can get at the highest peak Chimborazo is -15 Celcius – thus you will need good layers and warm clothes to avoid hypothermia, this should complement your waterproof clothing too.
Buffs are a great piece of gear, as well as some good gloves, this should help you out on the extreme conditions that the Andes can bring.