Climb Cotopaxi and Chimborazo with the BEST!
Climb Cotopaxi and Chimborazo with the BEST!
The first quarter of the year has gone by and it has left us great experiences, here are some testimonials from our clients in Trip Advisor. 
Wlady helped organize a fantastic custom trip for me to climb Cotopaxi. My parents decided to join fairly last minute at the Tambo Paxi lodge (so nice) and Wlady helped us organize transport and everything quite real-time. He is EXTREMELY responsive on W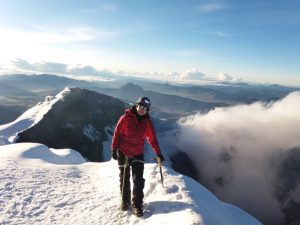 hatsApp which was hugely appreciated. He assigned me José as my guide, who was very experienced and understood I was nervous about the altitude and so had a fantastic (slow) pace on our climb, and also helped me with my crampons and pack when he noticed I was quite tired due from altitude. I was able to summit and we came down quickly. I felt absolutely safe with Jose and you should totally ask for him if you're booking with Wlady!! I will absolutely book with Wlady and his team again when I'm back for Chimborazo… thank you for a great experience.
Any Wu – USA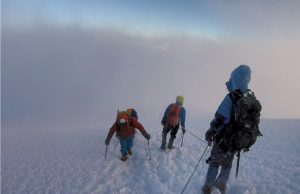 I definitely recommend Ecuador Eco Adventure. I had an enjoyable (and successful) three-day climb of Chimborazo in January 2019. The guide was great, and all of the technical equipment supplied was very good quality – some of the non-technical items I borrowed (e.g. gloves) were a bit old so if you have your own, bring them. We successfully made it to the summit, even though the conditions were pretty bad so not everyone made it – four successful out of about ten people attempting that day. Wlady was very helpful throughout the booking and preparation process. If you want to acclimatize in luxury, maybe go for one of the more expensive tours, but considering how much more expensive most other tours are, all of the important stuff is exactly the same.
Fred – UK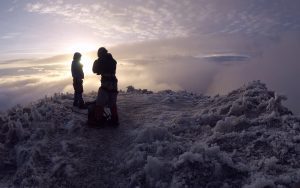 We had a great time on the 2 days 1 night trip to Cotopaxi. It was so helpful having all the equipment provided and the staff was very helpful. Our guide Eloys was very experienced and accommodating as we struggled our way to the summit. Would definitely recommend this company although the English/Spanish barrier made it difficult to communicate.
Rebecka – USA
A group of Seven friends and myself from Denver organized a trip to climb Chimborazo through Eco Adventures. The communication and attention from Wlady (owner) were flawless, quick, and extremely sensitive to all our needs. He responded to all of our concerns and emails quickly, and even as we kept adding members to our trip (we started with 2, then added 2 more, than 3 more) he accommodated all of our needs. We organized a trip that was perfect for our needs and within the budget we needed. It was especially helpful that he organized rides to/from Quito and almost everything was included. Very thankful for the hard work of this crew.


Finally, on a separate trip to Ecuador, they also helped me to organize tours in the Galapagos. As I run a small non-profit it is important to find trustworthy and reliable friends on the ground that are affordable as well. Very happy with the service up to this point!
Chriss L – USA
I went with Wlady and Ecuador Eco Tours to climb Chimborazo and can absolutely recommend them to anyone looking to climb the peak furthest from the center of the Earth! I showed up in Riobamba the day before I wanted to climb and Wlady was able to arrange absolutely everything I needed. He had all the extra climbing equipment available in a variety of sizes, he explained the different options for acclimatization, and even set me and few other climbers up in a mountain lodge below Chimborazo for an extra night of preparation. The actual climb was excellent as well. My guide, Telmo, was an absolute pro, and without his help and encouragement, I would have had no chance of getting to the summit. Don't be fooled, this is a tough, tough mountain, but Wlady and his team give you a great chance to reach the top. Thank you!
Wilson – USA