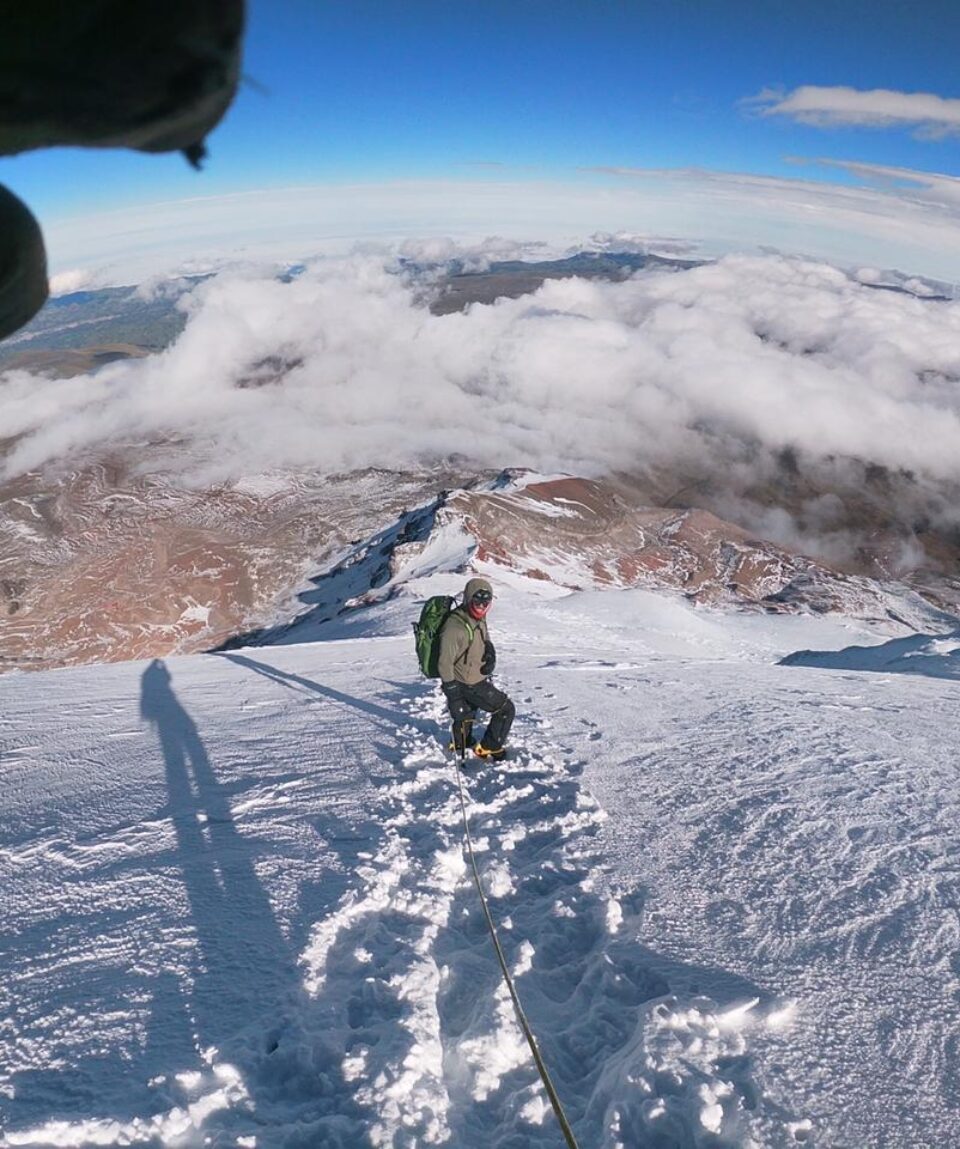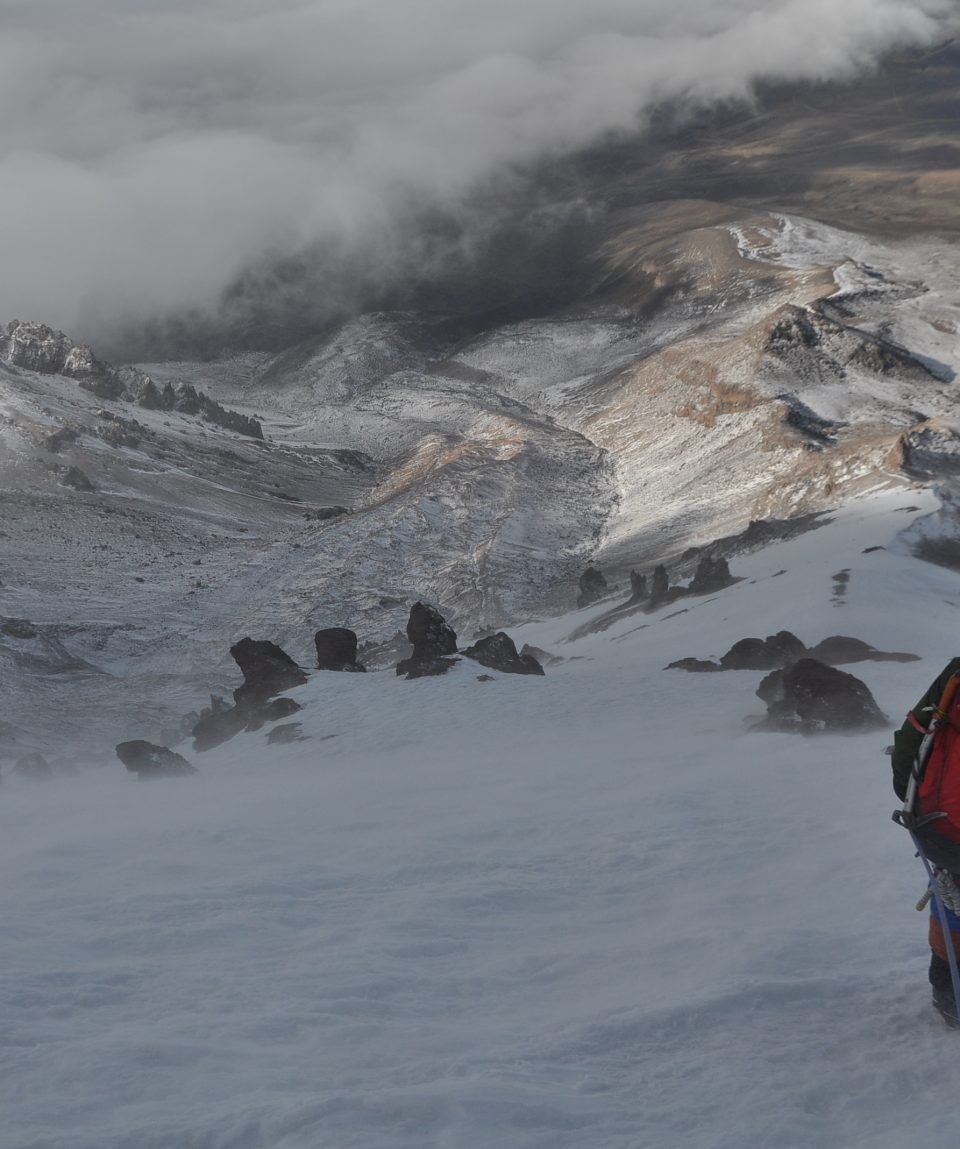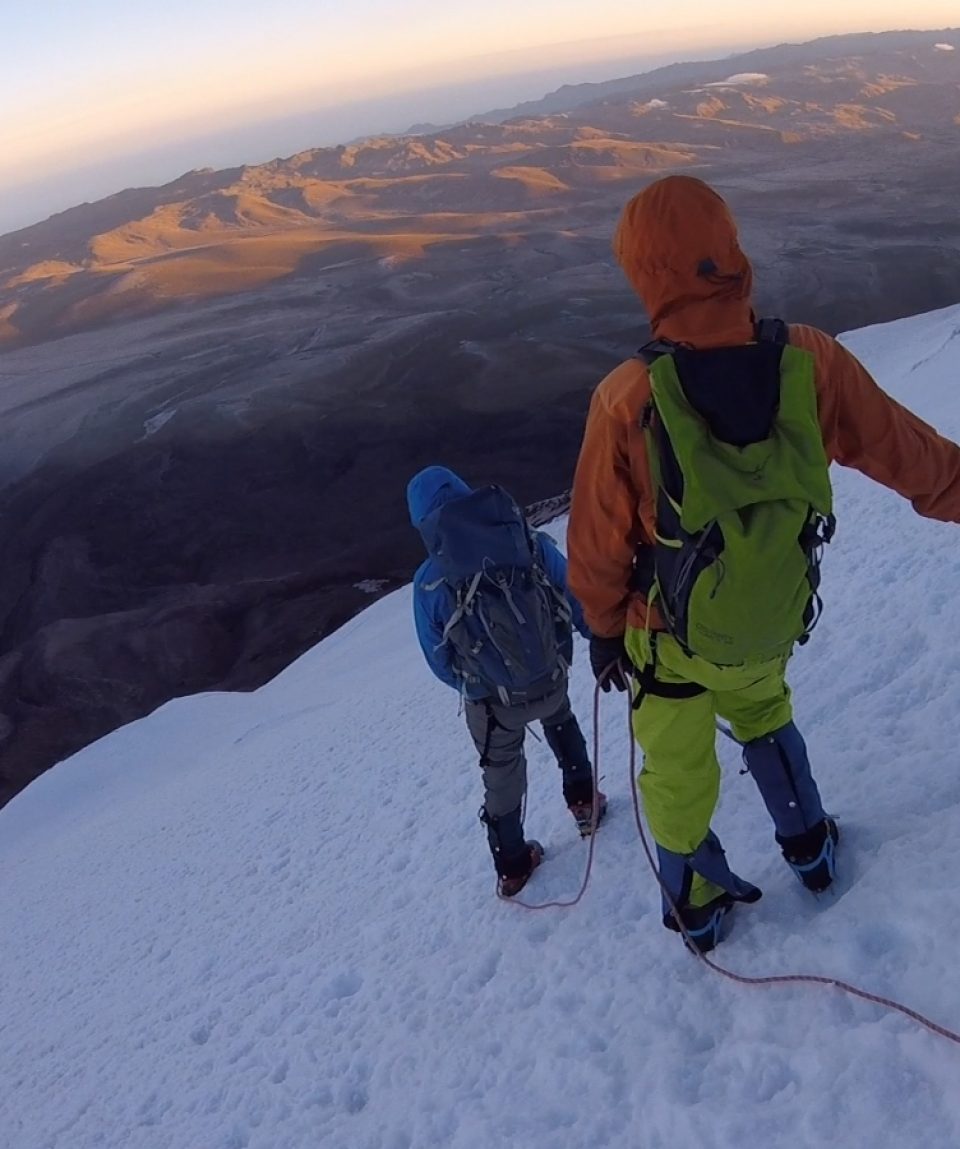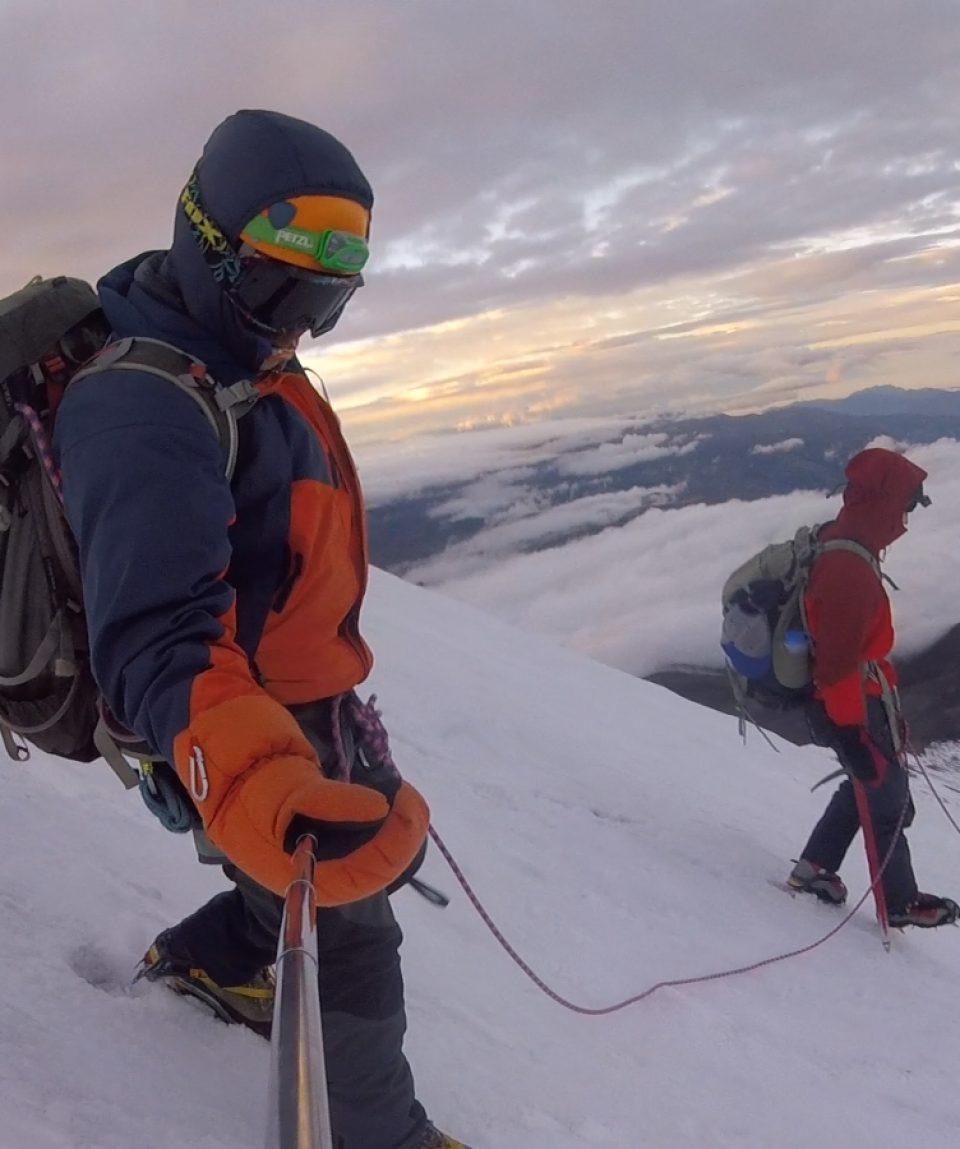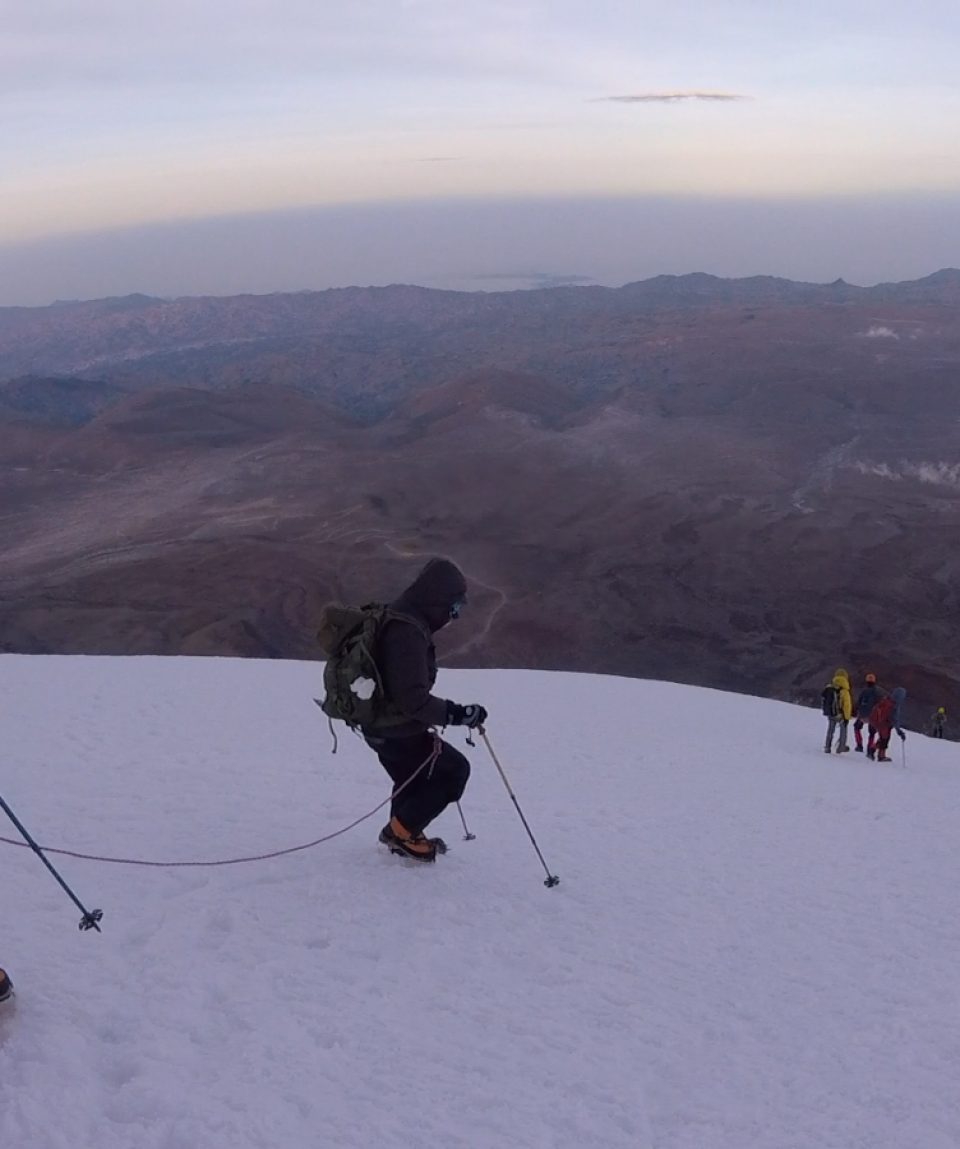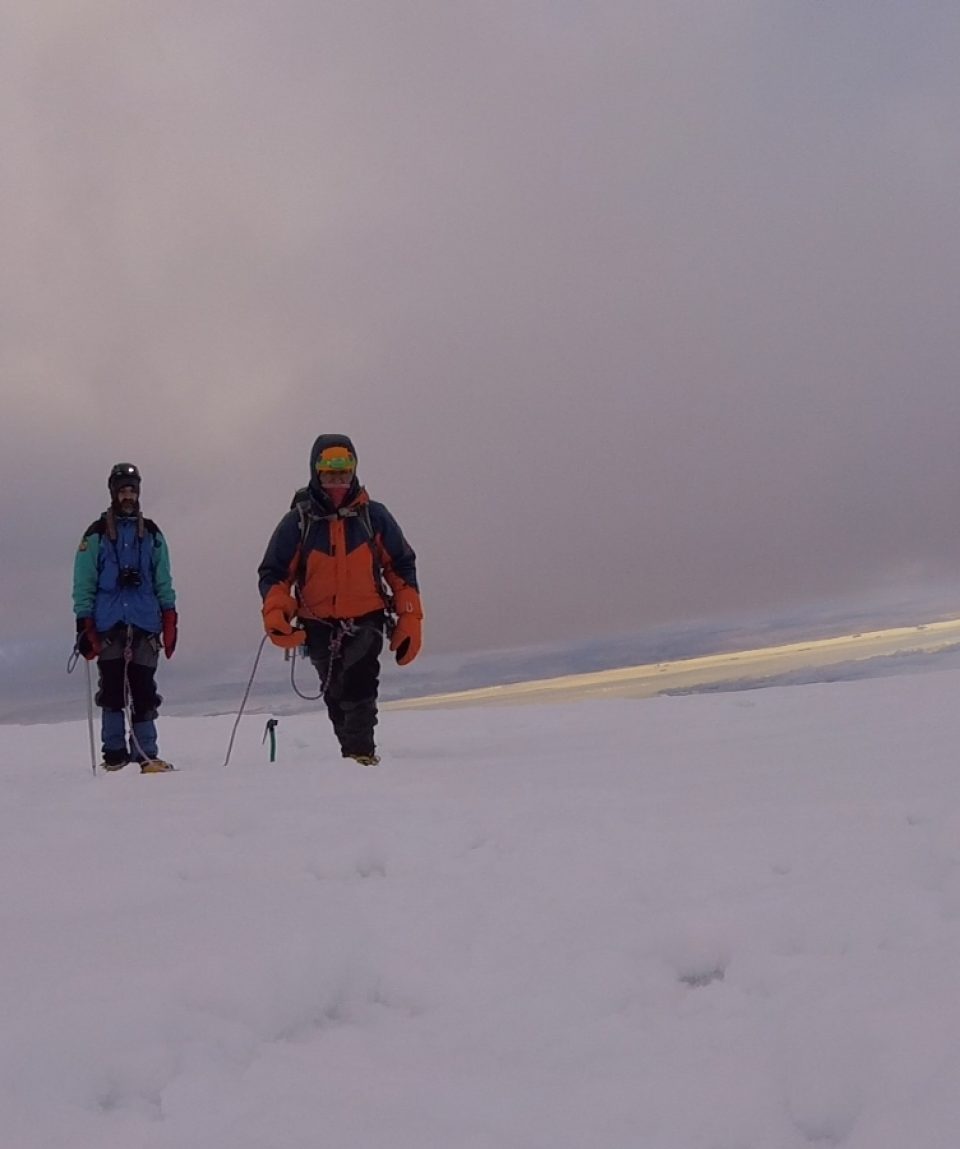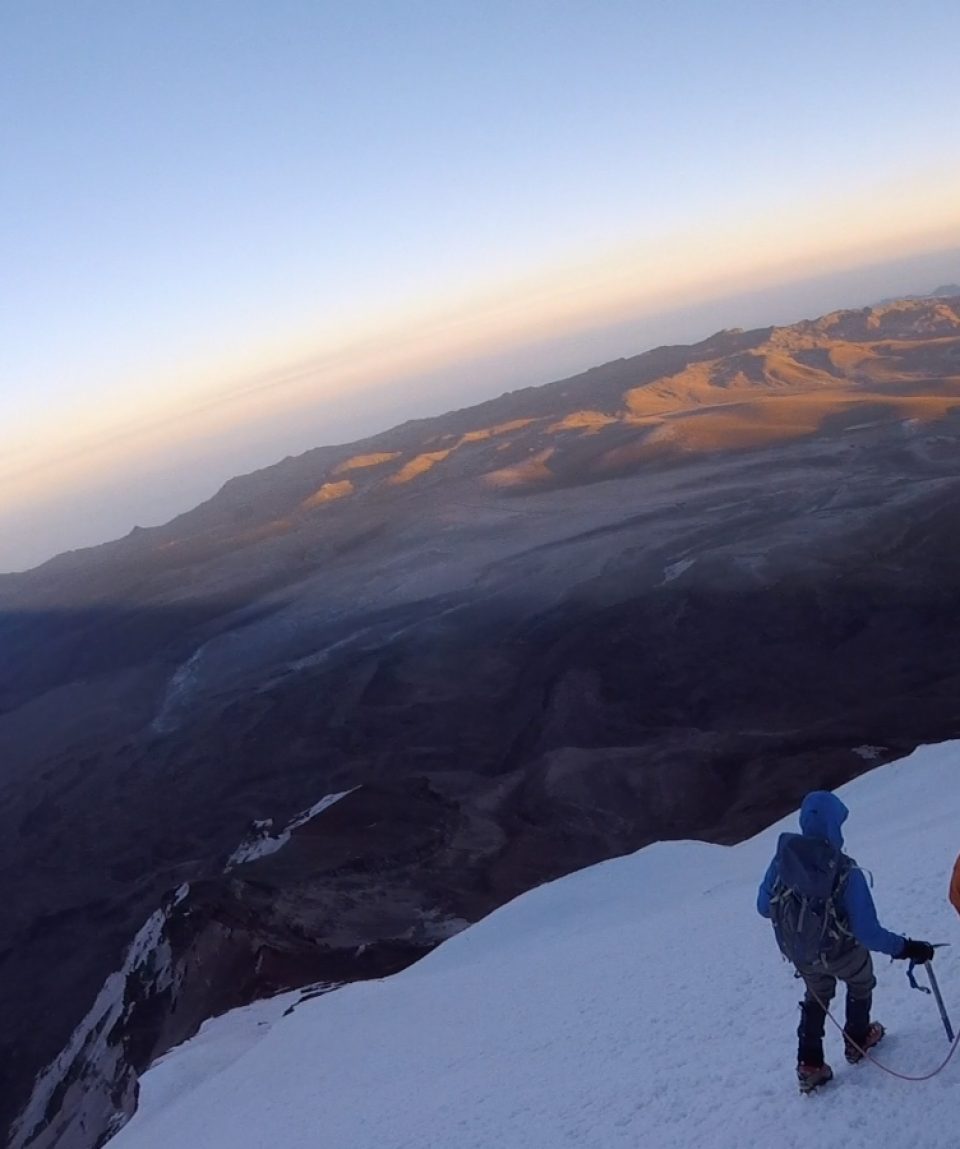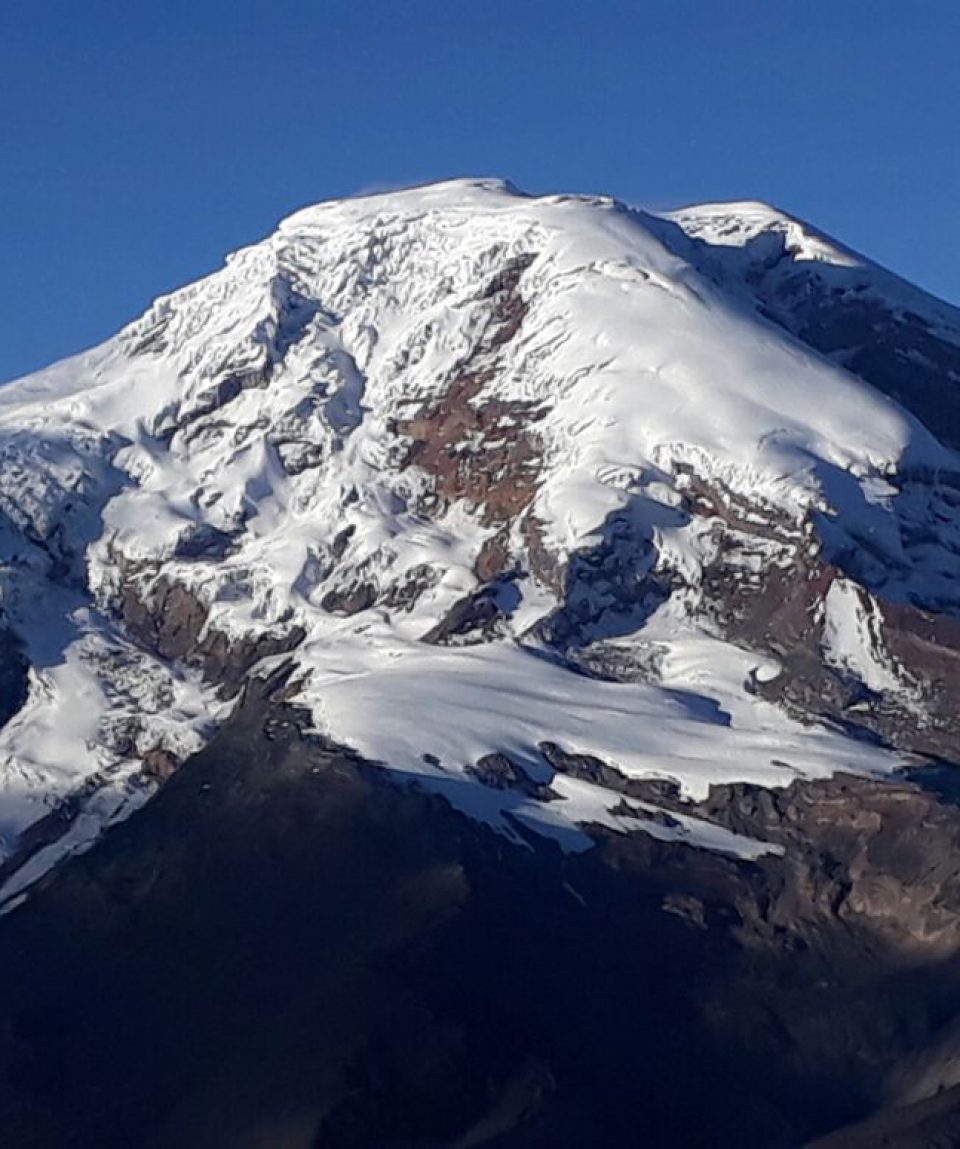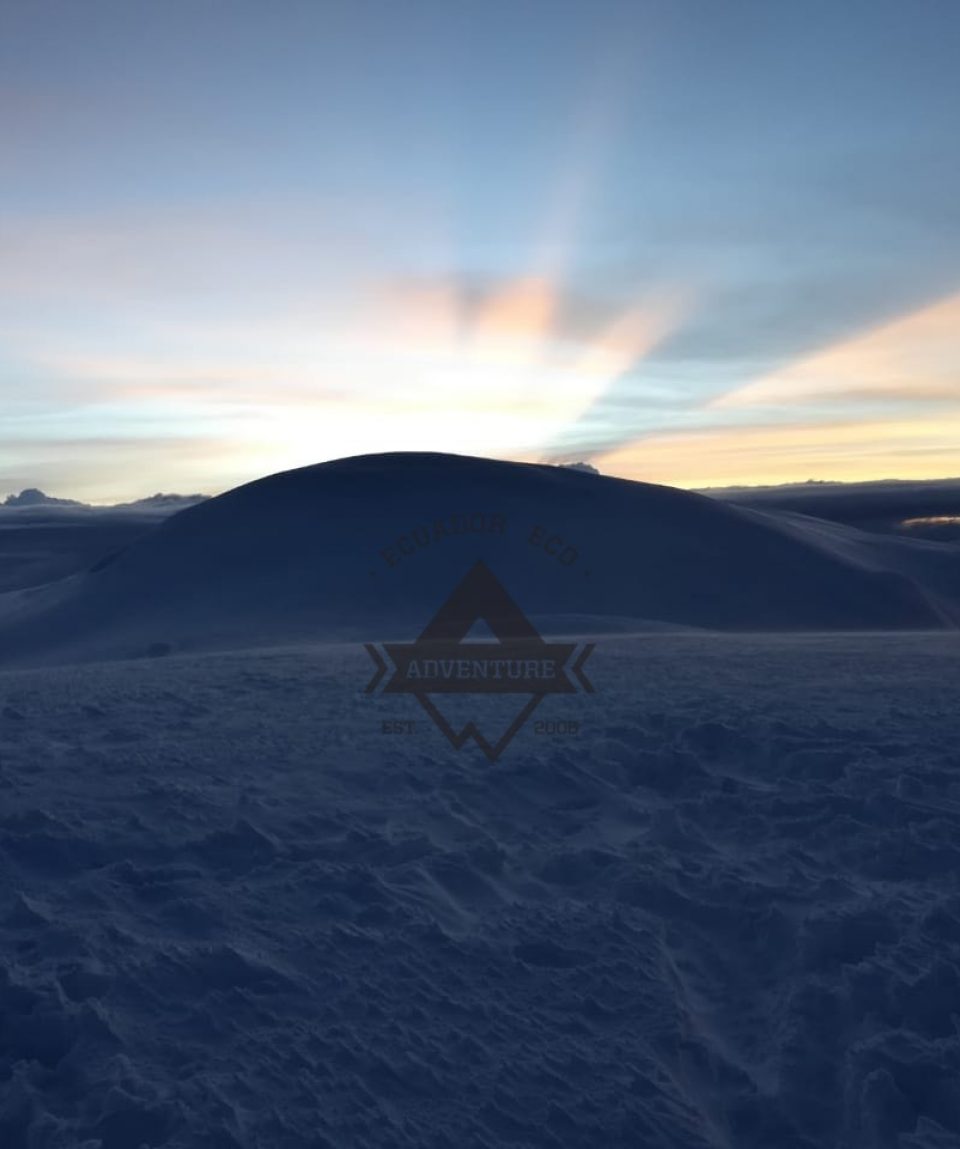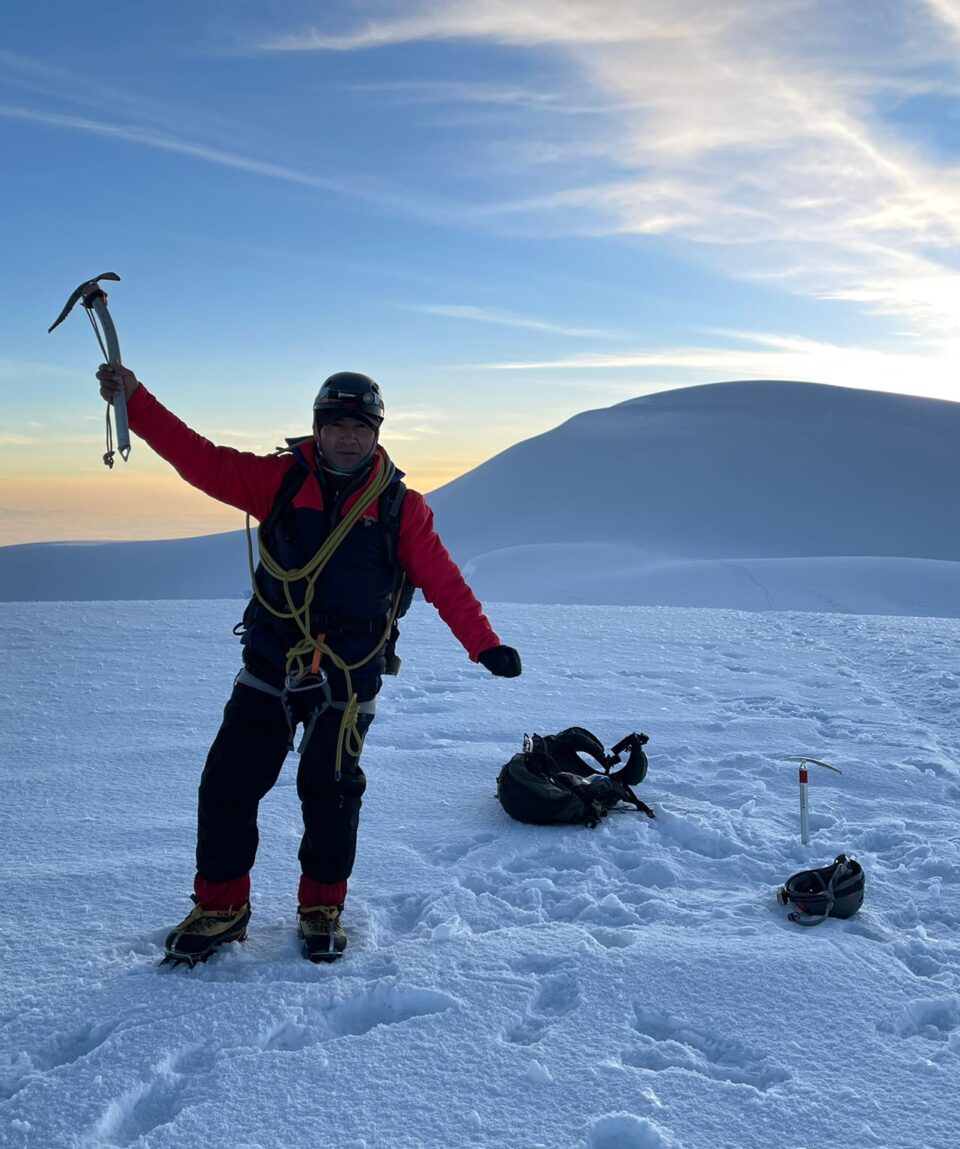 Climb Chimborazo
Chimborazo is the largest mountain in Ecuador and its 6,310 meters (20,565 ft) height on the equatorial line makes its summit the closest point to the sun on planet Earth.
Our highly experienced high-altitude mountain guides are certified by ASEGUIM —the national mountain climbing association of Ecuador—as well as the Ministry of Environment and Tourism to work inside Chimborazo National Park.
Climbing Chimborazo Difficulty: Unlike other 6000+ meter summits, Chimborazo is a relatively fast mountain to climb because the summit attempt begins at the second Chimborazo refugio located at 5,000 meters.  Overall this means it takes approximately 7-8 hours to reach the summit from the second refugio, and not multiple days like other mountains of similar size.  The effort however requires endurance and good stamina.  Its also highly recommended to spend time at high-altitude prior to climbing the mountain to acclimatize.  The success rate of climbing Chimborazo depends on the climber, his or her level of acclimatization, and of course the weather during the ascent which is the only wildcard out of the climbers control.
Training for Chimborazo: Chimborazo is a difficult climb but it's not a complicated technical climb and most of the ascent is a steep trek up the side of the mountain.  Nevertheless, we seriously recommend climbers take a look at ways to acclimatized for Chimborazo prior to starting the expedition by either taking on smaller mountains such as Carihuazo or Cotopaxi or spending time at altitude.
Prior to taking the challenge of climbing Ecuador´s highest peak, we suggest climbers train for Chimborazo, doing smaller mountains or multiple day treks enhances the chances for better acclimatization.
Pricing for Organized Expeditions:
From 4,800m:
$350 if there are 2 climbers – 1 guide
$580 private climb 1 climber – 1 guide
From 5,300 m High camp:
$425 if there are 2 climbers
$630 private climb
NOTE: As of November 2021 the safest way to climb Chimborazo is via high-camp at 5200 meters, since mountain refuges are still closed and there are no current updates on reopening.
SEE ALSO: Is it safe to climb Chimborazo?
How Long does it take to Climb Chimborazo?
This trip takes 2-3 days, the actual climb takes 7 hours but is done during the night, thus the minimum time you need is 2 days and 1 night
Currently, most climbers are starting from Carrell refuge at 4800 m as conditions in the mountain, have been worsened due to the glacier melting, due to global warming, thus guides take the longer route to the glacier for the summit attack, we suggest at least a day prior for acclimatization to high altitude.
For safety reasons, there is a maximum of two people per mountain guide by law. If you are climbing solo it will be only yourself and the ASEGUIM certified mountain guide.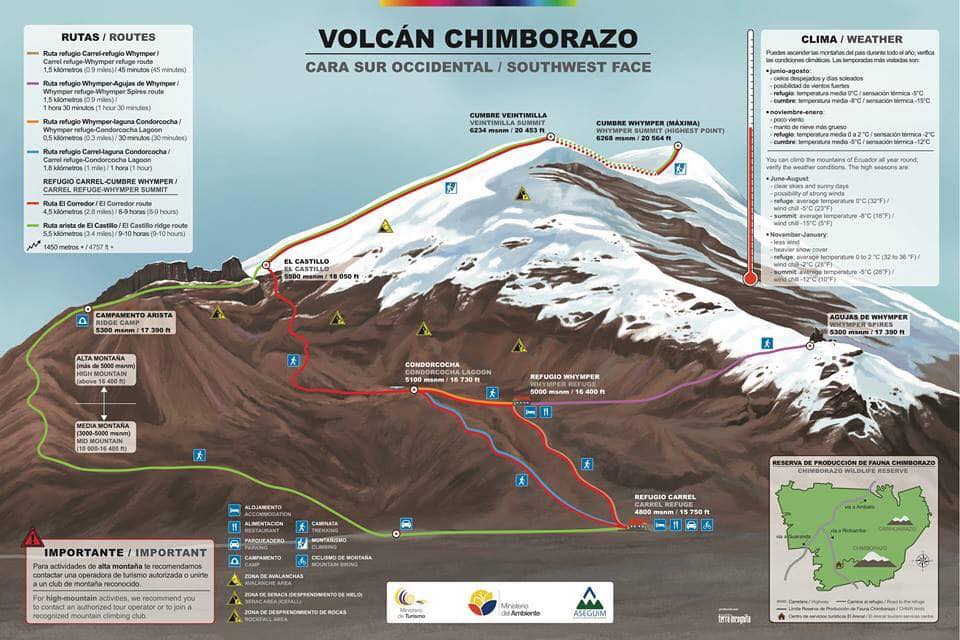 How to Train for Chimborazo?
Training for Chimborazo is all about endurance if you live at sea level, and this is your personal challenge, running long distances will give you the resistance your body needs for the actual climb.
At least one or two days at high elevation will allow your body to get used to the altitude, you can also trek a smaller mountain, such as Carihuairazo or Cotopaxi, this will take you about 5 days in total.
More and more climbers are choosing this new option, which starts at 5300 m, again the climb takes 2 days, but starting at this elevation cuts the attack time in almost half, making it even possible to climb the mountain in the afternoon, here is a short video of a rare Summit done by our clients at Sunset 6 pm.
How to Climb Chimborazo on a budget? Trying Chimborazo on your own is out of the question unless you are a highly trained climber with previous climbs on this mountain with an understanding of how to find the path to the summit due to your previous experience.
Also, the need for specialized mountaineering gear is compulsory.  Climbing Chimborazo with just your trekking boots or winter walking crampons is not possible.  Visitors are also often asked to present permits to Chimborazo National Park on arrival by the park rangers.  If you arrive without an ASEGUIM certified guide with permits you run the risk of not being able to enter the national park's premesis and being sent back.
Solo Travelers: Are you traveling alone, and looking for climbing companions?  You might be able to join an existing group by checking out available dates on Ecuador Open Tours.
Finding a climbing companion can help you lower the cost of the climb.  Joining an existing to share on transport costs by car pooling may also help discount the final price. Since Ecuador Eco Adventure organizes climbing expeditions almost every day of the week in high season its highly like that a discount can be made if transport costs can be shared with other climbers.
Ecuador Eco Adventure is a ecotourism operator based in Ecuador's mountain climbing capital of Riobamba.  We have been listed in the Lonely Planet and Rouge Guide, mentioned in the National Geographic Adventure Bucketlist for the Condor Trek, and even received a sponsorship for brand new mountain climbing gear from Black Diamond.  Riobamba is surrounded by Chimborazo and Cariuhazo to the west, Tungarahua to the north and El Altar and Sangay National Park to the east.
Check out our reviews on Trip Advisor, testimonials on our Blog to see what our clients have to say.  Also, our Facebook and Instagram pages are updated several times a week with images from our most recent clients.
Vacation Style Holiday Type

Camping

Hiking

Mountain

Peak

Rural

Wildlife

Adventure

Activity Level

High-Altitude Climbing
All about the Climb Chimborazo.
Expedition starts on request, with 1 or 2 Climbers per guide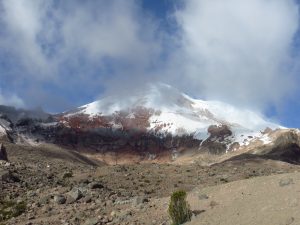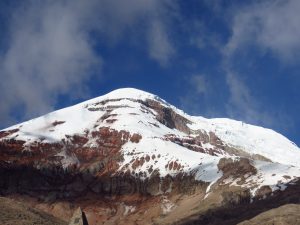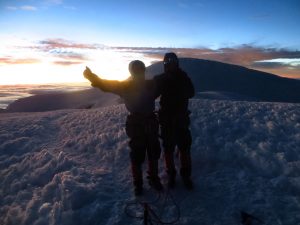 The tour package inclusions and exclusions at a glance
What is included in this tour?
Items that are included in the cost of tour price.
Mountain Climbing insurance
ALL Equipment: snow boots, crampons, ice axe, etc
Warm clothing suitable for climbing the mountain
Transportation to and from Mount Chimborazo
Entrance permits to the Chimborazo National Park
Accommodation in the Refugio (Base Camp)
Dinner in the Refugio before the climb
Snacks and Drinks during the climbAll breakfasts, lunches and dinners & dining
What is not included in this tour?
Items that are not included in the cost of tour price.
Travel insurance and other emergencies.
Extra snacks and water
Small back pack to carry snacks to the summit
Day1

Riobmaba - Chimborazo

At 1 pm we start the drive for Chimborazo mountian, after checking gear and suplies, inthe entrance to the national park we register the group and continue to carrel refuge. once there we wait for 5 pm dinner, and then rest unitl 10 pm.
Group gets ready and starts climbing by 11 pm

Day2

Summit Chimborazo - Riobamba

Summit is expected by 6-8 am, 8 being the latest, then we return to the refuge for breakfast, and return to Riobamba at the end.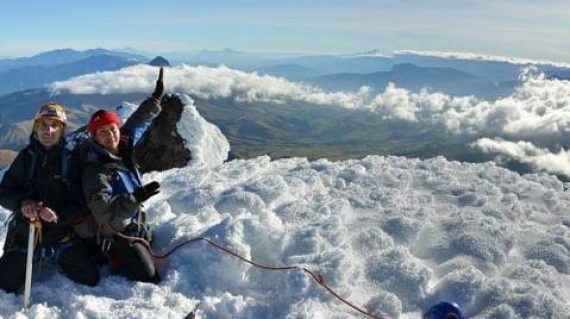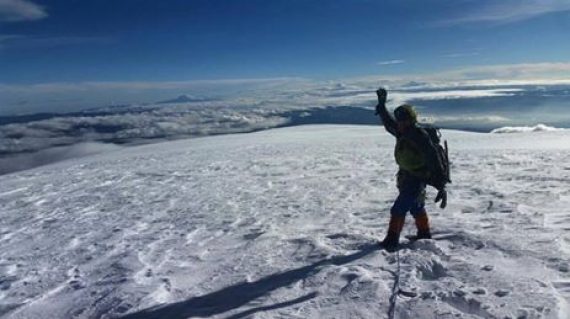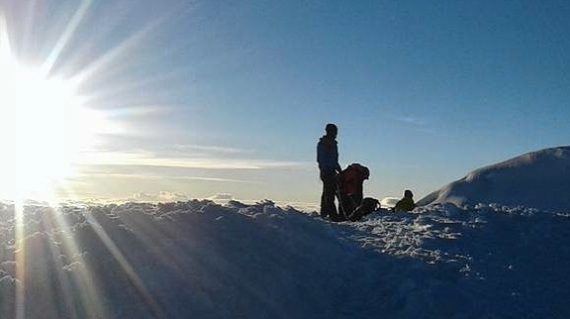 Carrel Refuge or high camp