Visit Cuyabeno Raniforest
Visit Cuyabeno Rainforest – Wildlife Reserve! 
Located in the north of Ecuador, on the Orellana and Sucumbíos Provinces, this amazing reserve is full of surprises. Since 1979, it is part of the National Parks and Protected Areas Program (in Spanish, Sistema Nacional de Areas Protegidas del Ecuador). It is indeed the second largest protected area of the country, with more than 590 000 hectares. The name of the Reserve is due to the river that crosses it, the Río Cuyabeno. In the language of the Siona-Secoya communities (this language is called Pai Coca), « Cuyabeno » means « gentle river ». By overflowing, the Río Cuyabeno created 14 lagoons that can be visited. The most famous is the Cuyabeno Lagoon or Laguna Grande in Spanish. There are also many paths around this area where you can go hiking. 
The rivers in the Reserve have some particularities. They can indeed be divided into two categories. First, there are the rivers called « white waters » (ríos de aguas blancas). Those rivers take their source from the Andean Cordillera. On their way to the rainforest, the waters carry with them some sediments which give the rivers a yellow-beige color, hence the name « white waters ». The areas temporarily flooded by those waters are called varzéas : they are very rich in sediments and perfect for agriculture. In opposition to this type of river, there are the rivers called « black waters » (ríos de aguas negras). They take their source directly in the rainforest. The dark color is due to the decomposition of organic matters that fall into the water. The areas flooded by those waters are called igapós and can remain submerged for several months.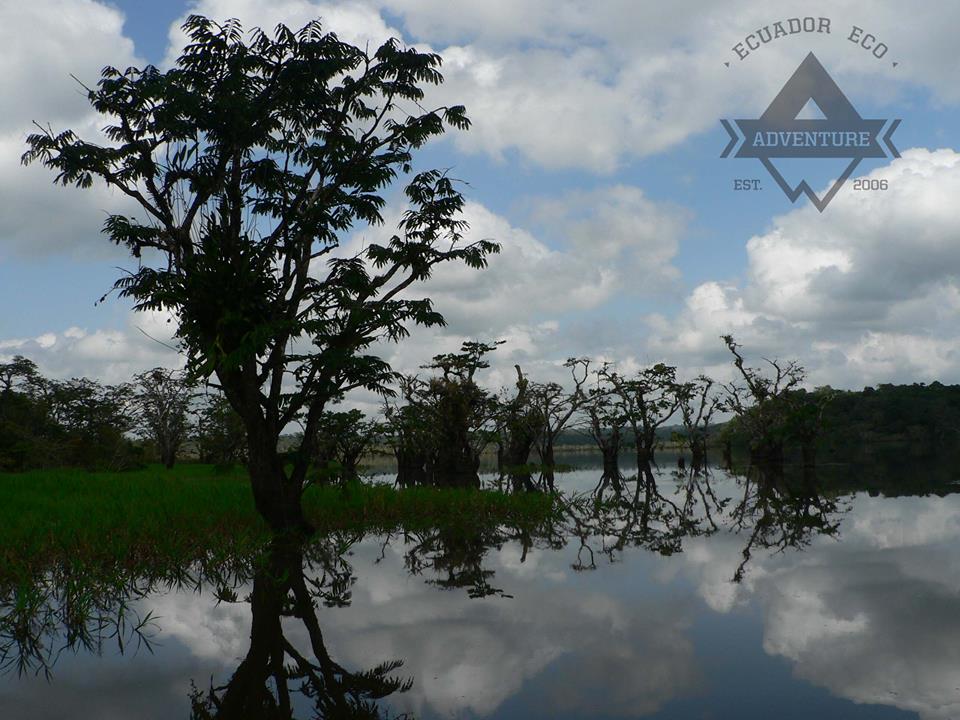 While visiting Cuyabeno Reserve, you will have the chance to discover a diversity of fauna and flora unique in this part of the world. You will particularly come across very diverse and rich aquatic wildlife, such as pink river dolphins or caimans. You will also learn about the indigenous communities that live inside the Reserve, their lifestyle, their history, and their traditions. Siona, Secoya, Cofán, Kichwa, and Shuar, there are so many natives you can learn about. 
Ecuador Eco Adventure offers great experiences where you will come across the fauna and flora in Cuyabeno while exploring all day the rainforest. You will go hiking with local experts, observing the birds and the apes, fishing piranhas, tracking forest animals, or even spotting alligators and caimans at night. You will probably have the chance to see the king of the Amazonian forest, the anaconda. This giant animal, which can measure from 3 to 5 meters long and weigh several hundreds of kilos, doesn't get unnoticed. But don't worry, during those activities you will always be accompanied by a guide, expert of the area and most often native of Cuyabeno.
By Maika Dufrasne – Tourism internship – Ecuador 2021