Things to Know Before Climbing Chimborazo
Here at Ecuador Eco Adventure, we specialize in bringing people to some of the wildest places on planet Earth. Ecuador is a hot-bed for other-worldly terrain thanks to its location on the Equator, extreme altitudes, and miles of abandoned coastline. It's considered one of 17 "megadiverse" countries in the entire world. When visiting a country like Ecuador where sublime natural features beckon from every direction, it is in human nature to heed an internal call to conquer, whether that be a peak, a valley, or anything in between. That's where we come in. Not only are we here to issue clichés like "it's not going to be easy but it's going to be worth it", we also take pride in creating a fun atmosphere, keeping our customers safe, and guiding visitors to the best experiences possible. Since we are based in Riobamba, we find ourselves favoring our summit tours of Chimborazo, the volcano that looms over our hometown. While anyone can enroll in a climb of Chimborazo, we understand a first attempt (or even a fifth or twentieth) at mountaineering can sometimes be intimidating, and because of that, we partnered again with our friends at AllTheRooms to break down some things to know.
Stats About Chimborazo
Approximately a three-and-a-half-hour drive from the capital of Quito and four-and-a-half hours north of the popular city of Cuenca stands Chimborazo the tallest point in Ecuador. That bragging point is thanks to its summit that stands 6,263 meters, or 20,548 feet, above sea level. While it may be about 9,000 feet short of Everest, because Chimborazo is located on the bulge of the equator, it is actually the closest place on the planet to the moon and the farthest point from the Earth's core. It is the 15th tallest volcano in the world, but don't worry, unlike its popular Ecuadorian counterpart, Cotopaxi, Chimborazo is inactive and will not erupt again. Its first successful summit occurred on January 4, 1880, by an Englishman named Edward Whymper.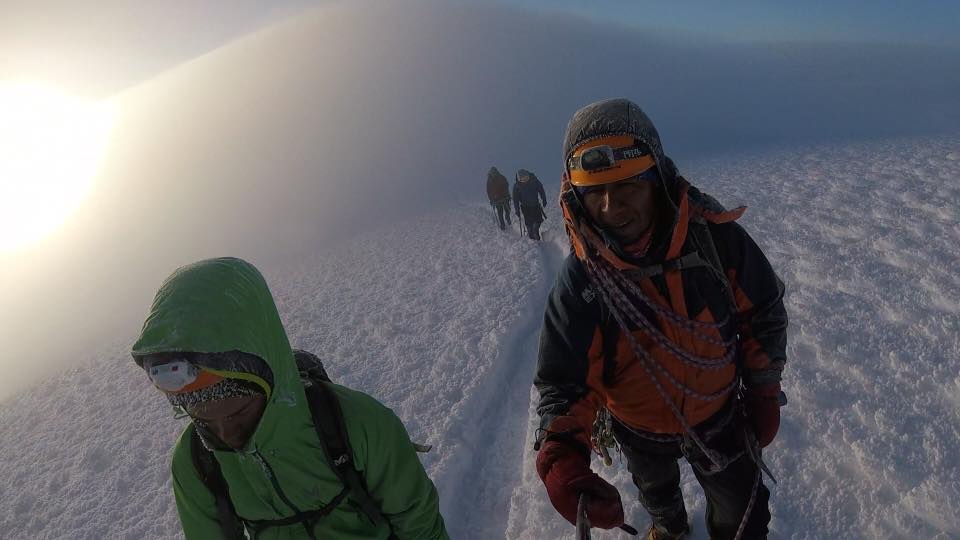 Preparations
While we encourage any able-bodied, fit person to give the climb a try, it is a physically demanding push to the top. Because of that we highly recommend training and acclimatizing. For those who don't know, acclimatizing is essentially spending significant time exerting physical energy at altitudes before attempting a mountaineering attempt. To do this we recommend doing other hikes in the area that will require significant exertion and/or climbing other mountains that may not be as tall as Chimborazo but will at least mirror the steep trek up the face of a peak. As for exercise to focus on prior to arriving in Ecuador, strong legs and a sturdy core will do some good but the best thing would be to have the best cardiovascular health and strength possible before the attempt.
Altitude Sickness and Symptoms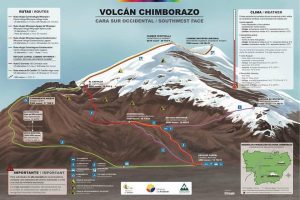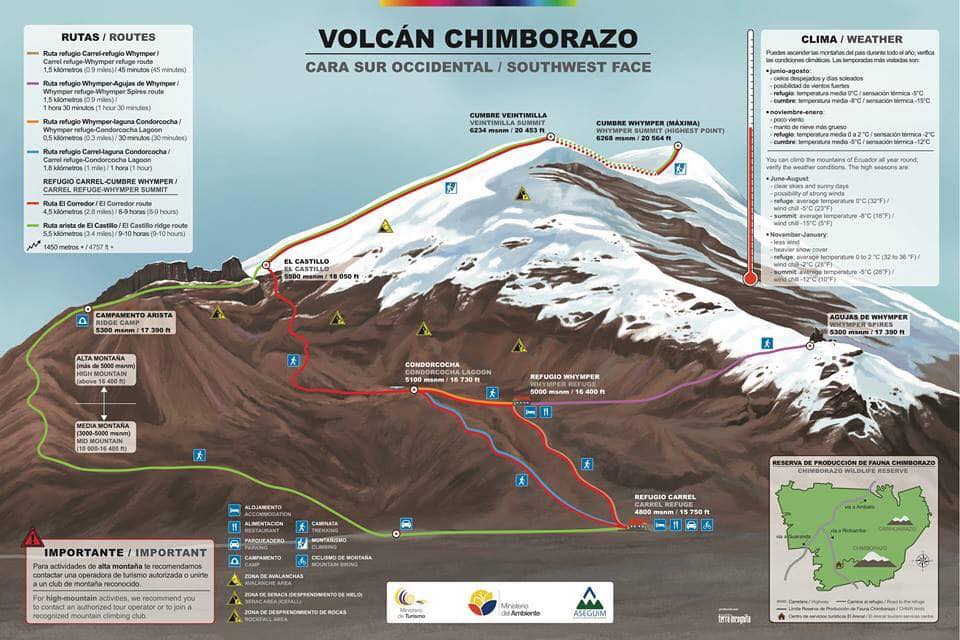 Every portion of the volcano will expose climbers to extreme altitude, which will be strenuous on nearly everyone's body. Altitude sickness is always a threat and needs to be treated seriously. While the sickness can strike anytime our guides are experts at recognizing symptoms and helping those who need it. It is important to remember that all bodies react differently to altitude; some of the most athletic of people will struggle mightily, while others will not experience as much difficulty. It is common and likely will happen, that while hiking a climber will feel shortness of breath, a rapid heart rate, and exhaustion. However, once symptoms like chest pain, debilitating headaches, and coughing-up fluid begin, it may be time to call it a day. Safety is a priority to even the most hardened of climbers, it is important to know your body. Also remember due to weather, ice conditions, and altitude illnesses, fewer than 50% of summit attempts on Chimborazo are successful, there is no shame in admiring the view from not quite the top.
Ecuador Eco Adventures Tours
At Ecuador Eco Adventures we are always ready to guide people on a once in a lifetime trek up Mount Chimborazo. Our Chimborazo climb is meant for everyone wanting to give it a try because unlike many other extreme altitude mountains, Chimborazo requires minimal technical mountaineering skill and it is affordable when realizing the average cost of an Everest expedition is around $35,000. A climb of this magnitude can be scary and it will be hard but our guides are the best in the business. Our team of indigenous guides is all certified by multiple climbing and governmental agencies to ensure our guests' safety and enjoyment. For those wanting to be ready for the summit, check out our acclimatizing tour, or for those keen on a different path, we offer a horseback tour around Chimborazo. Happy climbing!
Author: Zack Davisson
Zack is a recovering technical recruiter who traded in his suit and ties in Silicon Valley for salsa music and a passion for writing in Medellin, Colombia. When not writing for AllTheRooms you can find Zack with his nose in a book, puttering around nature, or getting ultra-competitive while watching Jeopardy.